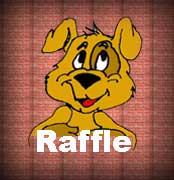 Stop/Start music.
Welcome to our monthly raffle.
Cost is only $5.00 per month per number.


In whichever email you pick, please give your first and last name, shipping address and how much you want to spend $5 $10 or $20 for the month. You will get an email back with all the instructions. You will be given a number or numbers to participate.

Please select one of the three email links below:


Please only donate items which are new or in good condition.
Click here to view this month's prize.