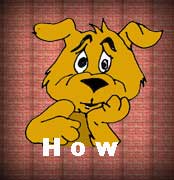 Stop/Start music.
How do you go about adopting a puppy mill dog?
Before you fill out our application or email us you might want to read on to see how we do this and the costs involved if you decide you would like to bring one of these little dogs into your home to become a member of your family.

Auctions are held most months except for July and August when is gets too hot, and the airlines embargo flying the dogs as cargo. We pay representatives to attend the auctions on our behalf. These people are experienced in what they do, we trust them to get the best price, without putting money into millers pockets. They also take the dogs we have purchased to a veterinarian after the sale for a health check, health certificate, rabies shots, and spay or neuter.

The auctioned dogs are then boarded at their facilities, evaluation of their personality is done and crate training is started, until transportation is arranged by either ground or air to get them to their new homes.

These dogs are NOT house broken, they have never seen the inside of a house, and most have never even walked on grass, they have lived in small cages they have pooped and peed through the wire under their sore feet. But, they are willing and eager to learn, you treat them just like you would a new puppy coming into your home. They are more than willing to try to please you as they are so happy to be free.
With your help, we can find these poor pups a home.
" One dog at a time"