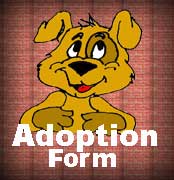 Stop/Start music.





Welcome to our adoption form (provided by our site),

If you are interested in possibly adopting one of our rescues, please fill out this form to give us information about yourself. All information requested is helpful in matching prospective homes with the right dog, so please answer everything as fully as possible. We will get back to you very shortly upon receipt of your request.


If you do not have a vet reference then please do not fill out the application as we MUST have that information.


We greatly appreciate your taking the time to fill out this form, and appreciate your interest in our dogs. We will get back to you regarding your request very shortly!


You will receive a personal collect telephone call from us very soon, and if you pass our test you will get an email inviting you to join our P.M.R. list at onelist.