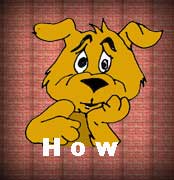 Stop/Start music.
Decisions you have to make before deciding to rescue a Puppymill dog:
What breed, age and sex of dog do you want to rescue.
How much are you willing to donate?
Do you have the time, love and patience to give to one of these dogs?.



We have a $175.00 minimum. (on occasion the donation will exceed that amount due to medical bills)
Getting your rescued Puppy Mill dog to you.
A lot depends on which state you live in, sometimes ground transportation can be arranged, through Truck-N-Paws rescue or a doggy wagon train, volunteers will drive 100 miles and dogs will pass through states and different drivers until they reach you, this can take a few weeks to arrange.

The other option is to fly your new pet to you as cargo, cost range from $75.00 to $150.00 for a small to medium dog on most airlines. We will loan you a crate, or will purchase one for you. Now you have your wonderful new Puppy Mill dog in your home, you will need to take him or her to your own vet for a check-up.


If you are very serious about taking one of these poor unloved Puppy Mills dogs into your home and family and giving it all the care, love and attention each have never known, please fill out our adoption application form.
Click ahead for the email adoption application form.